VCIPL Electric Power Winches are designed to make easy work of heavy loads, and are the perfect solution for moving heavy goods.
A VCIPL Electric Power Winches are designed & manufactured in accordance with IS 9507 codes of practice for design, manufacturing, erection, testing of structural part of the Winches.
Specifications
Capacity – Up to 20 T.
Designed as per IS-9507 and are suitable for heavy Duty applications.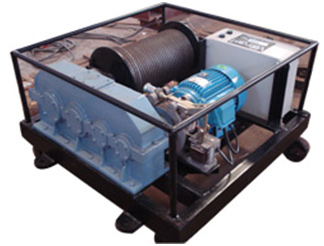 FLAMPROOF WINCH suitable for hazardous area gas group II A and II B / II C.
Base Frame is Fabricated with ISMC& C Sections/Plates property ribbed, floored with checkered plate platform for working area, lifting lugs, Anchoring Holes for foundation, provided.
Reduction with self-made Helical Reduction Gear boxes.
Rope Drum is Steel fabricated Drum duly machined, with flanges at both ends.
Winding Capacity – Up to 500 Meters of Wire Rope (Drums with larger winding capacity can also available).
Motor of High Starting Torque, Class 'B' Insulation, 150 Starts/Hours, 415V, 50Hz, 3 Phase, A.C. Induction, squirrel Cage/Slipring motors conforming to IS-12615.
Control & Control Panel – Operated by Push Button Station/Controller at 110V. fixed on machine. The control Equipment are like Triple Pole Reversing Contractors, H.R.C. Fuses, pilot lamp.
Brake are Electromagnetic/Elector Hydraulic thruster, Double Shoe Type Brake and/or Hand Operated brake provided as per requirement.
All Machines are tasted at 25% overload.